EUROPEAN LEGISLATION FOR TYRE LABELLING
An introduction to the new tyre labelling regulation that comes into force from 1 November 2012
Why is tyre labelling being introduced?
Tyres make an important contribution to road safety and to the environmental impact of road transport. However, all tyres don't offer the same performance. The Regulation will enable consumers to make more informed choices when buying tyres.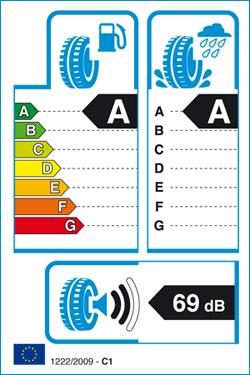 The tyre labelling regulation introduces labelling requirements with regard to the display of information on the:
Fuel efficiency
Wet grip handling
External rolling noise of tyres.
Its aim is to increase the safety and the environmental and economic efficiency of road transport by promoting fuel-efficient and safe tyres with low noise levels.
This regulation allows customers to make more informed choices when purchasing tyres by considering this information along with other factors normally considered during the purchasing decision process. It should be noted that the actual fuel savings and road safety depend heavily on the behaviour of the driver, in particular 'eco-driving' can significantly reduce fuel consumption, the tyre pressure needs to be correct and regularly checked for optimum fuel efficiency and wet grip performance, stopping distances should always be strictly respected. We would also like to make it clear that the 3 criteria listed above, although important, are not the only performance parameters.
The EU's targeted outcome is that road safety will improve and that the environmental impact of road transport will be reduced.

What does the regulation introduce?
Tyres will be graded according to wet grip, fuel efficiency and external noise. The presentation will be based on the familiar EU energy efficiency label.

What does the label mean in practical terms?
New EU tyre labelling - Icon for Fuel Efficiency Fuel Efficiency
7 classes from G (least efficient) to A (most efficient). Fuel efficiency is important to reduce both CO2 emissions and the cost of driving. Currently only 6 of the 7 grades from A - G will be used, with Grade D not being used.

The difference between each grade means a reduction or increase in fuel consumption of between 2.5%-4.5%. That's a difference of about 0.42-0.56 mpg for a 36 mpg car per grade.

New EU tyre labelling - Icon for Wet GripWet Grip
7 classes from G (longest braking distances) to A (shortest braking distances). Wet grip is a critical safety feature and relates to the tyres ability to stop a vehicle quickly on wet roads and can be expressed in terms of stopping distance.

The grades are A to G, with D and G not being used. The difference between each grade means an increase or decrease in stopping distance of between one to two car lengths (between 3 and 6 metres) when braking from 50mph.

New EU tyre labelling - Icon for Road NoiseRoad Noise
The external noise made by the tyre which is measured in decibels db(A). The tyre's external rolling noise is not entirely correlated to vehicle's interior noise.

In addition to the noise value shown in Decibels, a pictogram displays whether the tyre's external rolling noise performance is above the future European mandatory limit value (3 black bars = noisier tyre), between the future limit value and 3dB below (2 black bars = average tyre) or more than 3 dB below the future limit value (1 black bar = low noise tyre).

When does the Regulation come into force?
Manufacturers and importers will have to provide information regarding the performance of tyres they supply in the EU that were manufactured from 1st July 2012. From 1st November 2012 retailers in the EU will have to provide consumers with information regarding the performance of tyres offered for sale that were manufactured from 1st July 2012. (Date of production code 2712 or greater).

The Regulation applies to the supply of new car, 4x4, van and truck tyres with rim sizes greater than 254 and less than 635 mm. The principal exclusions are motorcycle tyres, retread tyres, T-tyre temporary use spare tyres, tyres for pre-1990 vehicles and racing tyres.

What about tyres manufactured before 1st July 2012?
Operators throughout the supply chain will have to manage a transition period while stocks contain tyres made both before and after 1st July 2012. Some manufacturers or importers may choose to label tyres made before 1st July 2012 but the Regulation does not require them to do so. Retrospective labelling of tyres already in the supply chain that were made before 1st July 2012 would be costly and carries potential legal risks. The labelling information relating to tyres made from 1st July 2012 may not in every case be applicable to tyres made before that date.

How will garages and other retailers manage all this extra information?
Tyre manufacturers and importers are required to provide labelling information in product catalogues and other technical documents. They must also provide labelling information on their web-sites. The principal software houses that support the tyre retail sector are informed of the requirements of the tyre labelling Regulation and are developing products to meet the extended needs of retailers.

What are the obligations at point of sale, including all websites selling tyres?
From the 1 November. 2012, all tyres produced after 30 June 2012 must display the following information:

All passenger or commercial van tyres, on display or visible by the consumer must either carry the sticker displaying the tyre label directly on their tread (as provided by the manufacturer) OR must have a copy of the tyre label as provided by the manufacturer) in their immediate proximity.
Garages must provide buyers with label fuel efficiency and wet grip classes and noise values and class of products even if not on display, before the sale.
The fuel efficiency and wet grip classes and noise class and values (but not the full image of the label) shall be included on the tyre technical promotional material like for example the price list, or web sites.
Fuel Efficiency class, Wet grip class, and the external Rolling noise declared value have to be provided to the end consumer either on or with the bill.

Cross Hands Motors offers a wide range of professional services with highly trained auto technicians always on hand to fit new parts or to offer advice to our loyal customers. Call us today to get the best prices on new car tyres fitted, winter car tyres fitted, wheel alignment, car exhaust systems, air conditioning recharges, replacement brake pads and discs, booking in your car for its MOT, car servicing, cambelts, shock absorbers, engine rebuilds, vehicle diagnostics, clutches, batteries, turbo inspection and car gearboxes